Working...

Job Board

Food Service Dept - Server - HIS Kitchen
Special Education Teacher - BGS
Part-Time RTI Paraprofessional/Teachers Aide - LMS
We are also looking for individuals
for the following positions:
Substitute Teachers
Paraprofessionals
(See below for more information.)
Substitute Paraprofessionals
Bus Drivers
Custodian Subs

Please note: positions are posted until filled.
Thank you for your interest in our district.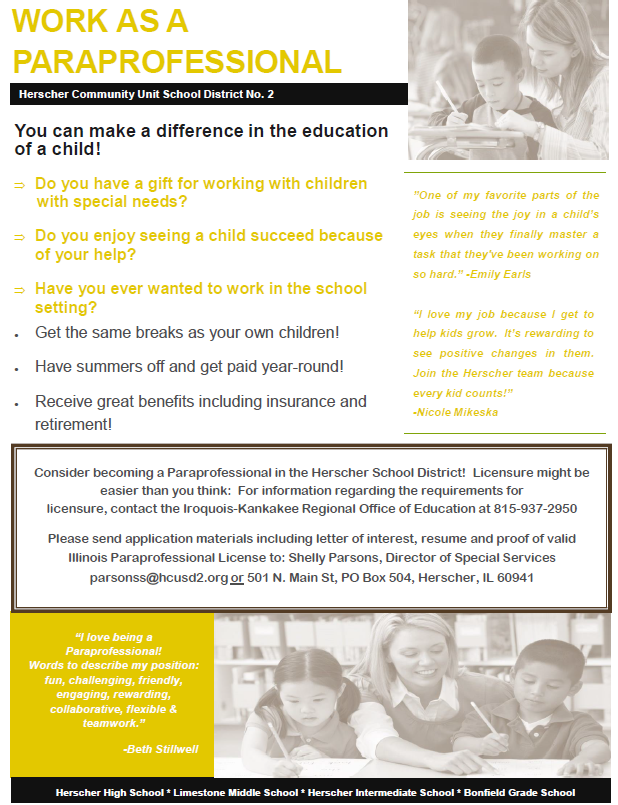 Substitute Teachers
Click for our Certified (Teacher) Sub Packet (8-2019)
* New 2018-2019 is a STS Licensure *
Please note this licensure is for subbing for teachers only.
Holder cannot substitute for a paraprofessional under this licensure.
Non-Certified Substitute
Click for our Non-Certified Sub Packet (8-2019)
Non-Certified Staff include: building secretaries, custodial and maintenance personnel;
paraprofessionals (teacher's aides), bus drivers and food service personnel.
When submitting paperwork, attach:
♦ Copies of TWO forms of government-issued ID for the I-9 form ♦
♦ VOIDED check for the direct deposit form ♦
It's a great day to be a Tiger!!
- R. Oloffson