Working...

2021-22 Online Student Registration
2021-22 Online Student Registration is available May 1 through June 30, 2021 via Infosnap/PowerSchool Enrollment.
Notification of your student's snapcode that is needed for registration was sent via email to one parent/guardian on April 30, 2021. Please note that a NEW snapcode is generated every year. Last year's snapcode will not work for the 2021-22 school year.
2021-22 ONLINE STUDENT REGISTRATION
Admission and Residency
Only students who reside within Herscher CUSD2's boundaries may attend our district schools and pay in district registration fees. Students who reside outside of our district must pay tuition and district registration fees. Children must be five years of age on or before September 1st to be enrolled in Kindergarten. PROOF OF RESIDENCY must be presented at the time of registration at the school the student will attend. Current medical and immunization records must also be presented prior to student attending.
---
2021-22 Online Student Registration
Register Online 24 hours/day, 7 days/week.
Parents are encouraged to register their students promptly.
Click HERE to begin registration.
(you must have the snapcode provided by Herscher CUSD2)
Payment is collected in the Infosnap program via credit/debit card. You can also pay via cash/check or indicate that you will be applying for a Fee Waiver.

If you do not pay registration fees using a credit or debit card in Infosnap, it is your responsibility to make the appropriate payment to your child's school prior to the start of school OR make payment plan arrangements.
Registration Fees by School and Grade
There is a $20 discount per student if online
registration is complete and registration fees
are paid in full on or before May 31, 2021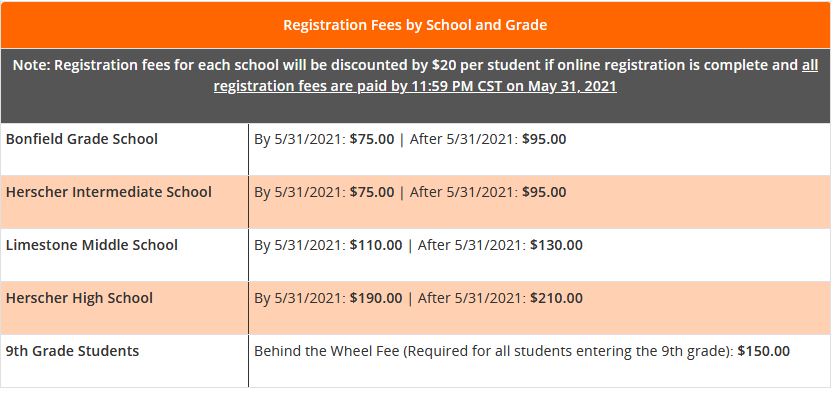 Tips to help:
Parents will receive an email notification with their student's snapcode on April 30.

Each year a new "snapcode" or registration code is generated for students. You cannot use your student's code from last year.

Your account login for Infosnap is your email address or cell phone number. If you do not remember your password, follow the "forgot password" steps.

You may pay online with a credit or debit card but you are not required to do so. Indicate check/cash or fee waiver application at the time of submission and you will be able to exit the online registration program without payment.

Feel free to call the unit office at 815.426.2162 if you have any questions regarding online registration.
---
Additional Information:
Homeroom assignments for K-4 students and the schedules for 5-12 students will be available in the Parent Portal one week prior to student attendance in August.

Transportation (Bus Route) information will be emailed the first week of August.
---
Should you have any questions, please feel free to contact your child's school office:
Bonfield Grade School - 815-933-6995
Herscher Intermediate School - 815-426-2242
Limestone Middle School - 815-933-2243
Herscher High School - 815-426-2103
District Unit Office - 815-426-2162