Working...

Community Information Page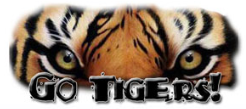 Welcome to our Community Information Page.
The following is provided in an attempt to keep the school community informed and allow easy access to information about things
happening in and pertaining to our school district.

COVID-19 Updates
Letter to the School Community from Dr. Decman - September 15, 2021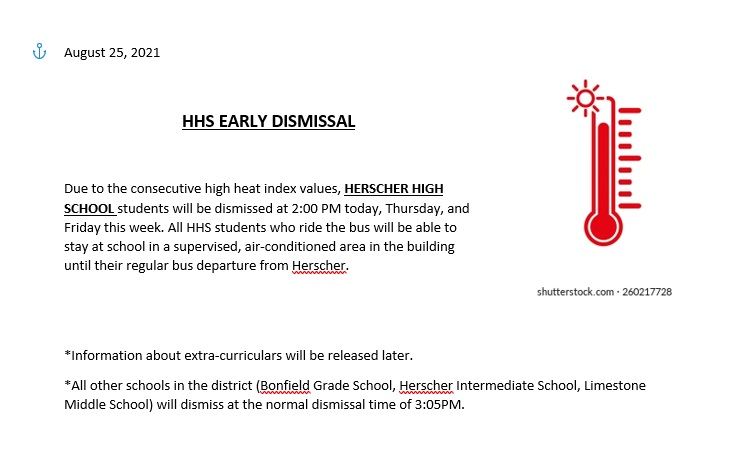 Per new mask mandate from Gov. Pritzker, click HERE to view our Plan for the start of the 2021-2022 School Year.
Mandate made August 4, 2021; effective immediately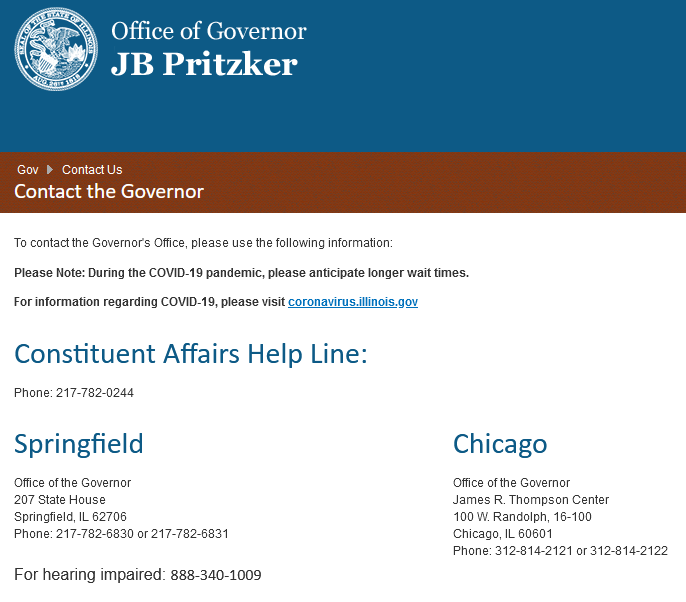 Click link above to view
Use of ARP-ESSER III Funds Plan
Bullying Incident Report - We have made it easier for anyone to report a bullying event they believe they have witnessed. Reports can be made anonymously. Click here for an incident report.
District Assessment Reporting
The third annual District Assessment Survey is now available. Link to assessment survey results.
Herscher CUSD #2 Attendance Information
Click HERE to view our Parent Guide
Parents/Guardians,
We have had several occasions where we have closed school or released early for weather-related issues. I would like to review the options for how the school district deals with these issues.
These options are as follows:
1. Close all schools for the entire day.
2. Release all early. (1:30 p.m. for all buildings)
3. Start all schools late. (9:45 a.m. for all buildings)
***There may be emergency situations that would dictate that we close just one school in the District.
Some other criterion for closing schools for the entire day are below:
1. Sustained wind chills measuring - 30 degrees.
2. Heavy snow and windy conditions.
3. Extreme icy conditions.
4. Heavy fog that is not supposed to break.
5. Combination of the above criterion.
Some of the criterion for releasing early:
1. Sustained temperatures above 94 degrees with accompanying humidity above 55%.
2. Dangerous storms heading our direction. (This may cause us to shelter-in-place as well.)
3. Other emergency situations.
Some of the criterion for starting school late:
1. Heavy fog that is expected to lift.
2. Icy conditions that are expected to get better.
3. Severe cold that is expected to get better.
4. Moderate snow that is expected to be cleared.
5. Combination of the above conditions.
We now have three options to deal with weather-related issues. It is my intention to announce these decisions as early as possible (preferable the night before). If we release early, we will release all schools at 1:30 p.m.. If we start late, we will begin school at 9:45 a.m. for all schools. (The late start is a new option, so please plan accordingly.) As always, if you have any questions, please feel free to contact me.
Thank you for your help in making the Herscher School District the best in the area!
Dr. Richard S. Decman, Superintendent of Schools
Click here for Child Care Weather Watch Tables regarding
temperatures,wind chills and the heat index.
Report to the Community Click HERE to view. (Nov. 2016)
District Owned Items Declared as Surplus
BIDDING RULES:
-Individuals must be at least 21 years of age to place a bid.
-Bids must be received in a SEALED envelope.
-You may bid on as many items as you wish using the bid form below.
-A separate bid form must be used for each separate item you bid on. Only multiples of the same item (ex. "3 tables") can be on the same form.
-Bids may NOT be canceled once submitted. All bids are to come sealed and will remain sealed until the opening.
-It will not be possible to check on the status of any item. Please seriously consider your bid before placing it.
-Once bids are opened and reviewed, the highest bidder will be contacted. If the bidder does not come in to purchase/pick up the item(s) within 5 business days from initial contact, the next highest bidder will be contacted.
-All bids are considered legally binding so please be sure you are able to complete the purchase at the time you acquire the items should you be the winning bidder.
PAYMENT and POSSESSION:
-Items won are to be paid for in full no later than the day items are picked-up.
-Delivery is not available.
-All items must be paid for in cash or via official bank check/money order. NO PERSONAL CHECKS.
-All items must be picked-up within (5) business days of being contacted.
ADDITIONAL TERMS:
-Herscher CUSD #2 reserves the right to withdraw any item from the auction at any time, without additional notice.
-Items are sold in "as is" condition.
-Devices are available in "as is" condition. There is no guarantee devices function. Operating systems, office programs and other applications are not included. Accessories such as power cords, AV cords, adaptors, mice, keyboards, etc. not included.
-Herscher CUSD #2 reserves the right to reject any bid.
-In the event of a tie, the earliest received bid will win.
Click HERE for our Bid Form
By submitting a bid, prospective purchasers acknowledge acceptance of these conditions.

New Items Available! Click HERE to view.
Time line for above listed items:
Items can be bid on starting June 3rd until 10:00 a.m. July 7, 2021.
Sealed bids that are received during this time frame will be opened at 10 a.m. on July 7th.

___________________________________________________________________
District Budgets
2021-2022
____________________________________________________________________________________
FOIA Requests (Freedom of Information Act)
District FOIA Officer: Supt, Dr. Richard S. Decman
Requests should be directed to Dr. Decman: 501 N Main St., PO Box 504, Herscher IL 60941 or via email. The fee for black and white, letter or legal sized copies may not exceed 15 cents per page. However, no fees may be charged for the first 50 pages of black and white, letter or legal sized copies provided to the requester. (Requests received during the last 18 mos. found below
Received: May 18, 2020 From: Tania Campbell, DATABID
Topic: list of companies who submitted proposals on the {Limestone Middle School CCTV} project that was due May 15, 2020. Duration to Complete: 2 days
Received: May 29, 2020 From : Jonathan Fagg, ABC7 Data Fellow Topic: info related to student attendance during the current period of remote learning. For this request, breakdown of attendance rates by school-by whatever measures district is tracking engagement -as well as details of how attendance is being tracked in this period. Please provide info by school when remote learning began until the most current date available upon production. Duration to Complete: 2 days
Received: July 17, 2020 From: Ken Deloian, SmartProcure
Topic: 1. purchase order #; 2. purchase date; 3. line item details; 4. line item qty; 5. line item price, 6. vendor ID #, name, address, contact person & email address from 1-13-2020 to current. Looking for preprogrammed software reports. Duration to Complete: 3 days
Received: July 28, 2020 From: Steven Duplain
Topic: Names, job titles, email addresses & the most current/readily available salary info of all teachers & administrators at Herscher CUSD 2 as of the date of this request. Duration to Complete: 1 day
Received: August 25, 2020 From: Ken Deloian, Smart Procure
Topic: specific information including: first/last name of all employees; position, title & department; main phone/business cell if issued; email & building addresses. Duration to Complete: 2 days
Received: August 31, 2020 From: Don Adams, Municipal & Scholastic Placements
Topic: current package insurance policy issued to the school district, including legal liability, casualty and workman's compensation coverage. Duration to Complete: 2 days
Received: October 19, 2020 From: Vince Espi, LocalLabs
Topic: any contracts involving guest speakers for the '19 (previous) & '20 (current) school year; include virtual guest speakers Duration to Complete: 2 days
Received: December 14, 2020 From: Kaza Rhan, Local Labs
Topic: data on district elected boards/officials specifically: name, term start/end date, salary & email address. Duration to Complete: 1 day
Received: February 2, 2021 From: Nathan Mihelich, IRTA
Topic: Name & email address of any cert. staff (teacher, admin., nurses, counselors etc.) retiring this year. Duration to Complete: 1 day
Received: February 9, 2021 From: Jonathan Fagg, ABC7 Data Fellow
Topic: breakdown of attendance rates by school, specify whether the attendance was in person or remote & how attendance is being tracked. if both in-person and remote learning have occurred, please provide info for both since the start of the school year. Duration to Complete: 2 days
Received: February 22, 2021 From: Joe Sutton
Topic: following documents: the district's current website and/or content mgmt system (CMS) provider contract, the district's current alerts and/or emergency notification provider contract, the district's current mobile app provider contract & current learning mgnt system (LMS) provider contract Duration to Complete: 1 day
Received: April 8, 2021 From: Jen Weeks, SMART265
Topic: Info. for new construction, renovation and/or maintenance work planned for any building owned or leased by district which includes the scopes listed below. In addition, if any contracts have already been awarded, please include the names/contact info of those contractor(s) and/or sub-contractor(s). HVAC (Heating, Air Conditioning, Ventilation), Exhaust Systems, Architectural Metals used for weatherproofing and/or ornamental purposes, Gutters and/or Downspouts, New installation and/or replacement of lockers, New installation and/or replacement of toilet partitions, Kitchen renovations and Current HVAC Maintenance Contracts. Duration to Complete: 2 days
Received: April 12, 2021 From: Zoe Yalcin, SmartProcure
Topic: 1. purchase order #; 2. purchase date; 3. line item details; 4. line item qty; 5. line item price, 6. vendor ID #, name, address, contact person & email address from 10-16-20 to current. Looking for preprogrammed software. Duration to Complete: 2 days
Received: May 19, 2021 From: Preston Dedi, Chicagoland Construction
Topic: Bid results/award for Tar & Chip at Herscher Bus Garage and Seebach Stadium project.
Duration to complete: 1 day
Received: July 13, 2021 From: Zoe Yalcin, SmartProcure
Topic: Purchase Order #; Purchase Date; Line Item Details; Line Item Qty; Line Item Price; Vendor ID#, name, address, contact person and their email address. Any and all purchasing records from 4/14/2021to current. Duration to Complete: 2 days
Received: Sept 7, 2021 From: Angel Tormis, SteepSteel, LLC
Topic: copies of all active leases/licenses for cell towers, rooftop antennas, or other wireless installations on property owned or managed by Herscher CUSD #2, Illinois, along with 24 months of associated payment histories.
Duration to Complete: 4 days
Received: Sept. 16, 2021 From: Vince Espi, LocalLabs.com
Topic: List of all materials in your district that fall under the 1619 project; list of all books written by authors Ibram X. Kendi or Robin DiAngelo that are used in curriculum or libraries in your school district.
Duration to Complete: 2 days
Received: September 28, 2021 From: Vince Espi, LocalLabs.com
Topic: All data of any faculty or student with (a) COVID -19 positive results, (b) COVID-19 like symptoms, or (c) close contacts to a confirmed COVID-19 case that were reported to the local health department over the previous seven days; please provide all details that were provided to the local health department.
Duration to Complete: 3 days
Received: September 30, 2021 From: Janie Jordan, Data Research Partners LLC
Topic: employee's first and last names, e-mail addresses, title/position and primary campus/department location.
Duration to Complete: 2 days
Received: October 5, 2021 From: Katherine Smyser, NBC Universal
Topic: Documents, data, and/or spreadsheets showing all unclaimed funds under the control of Herscher CUSD 2 which have not been reported or transferred to the Illinois State Treasurer; unclaimed property which district has reported and/or transferred to the Illinois State Treasurer and all claims for unclaimed property due to the district from the Illinois Treasurer. Duration to Complete: 1 day
Received: October 13, 2021 From: Zoe Yalcin, SmartProcure
Topic: Purchase Order #, Purchase Date, Line Item Details, Line Item Quantity, Line Item Price, Vendor ID #, Name, address, contact and email address from 7-13-2021 to current. Duration to Complete: 1 day
Miscellaneous District Reports