Working...

Superintendent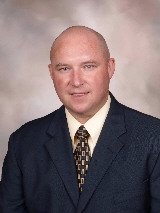 It is my honor to serve as the Superintendent of Herscher C.U.S.D. # 2. The foundation of any community is its schools.
Our children will be responsible for carrying forward our legacy.
Thus, we have a duty to leave a positive and lasting imprint on their lives.
Below, in no particular order, are some of my beliefs, reflections and desires:
* All children can achieve. Building deep positive relationships with one another is fundamental to our continued success.
* Our employees are our greatest asset. They are truly deserving of the love, dignity and respect of their profession.
* Morale is a choice. A person chooses whether or not to be positive or negative in their behavior. Do not let your environment influence your interactions with others.
*All members of our school community (teachers, students, parents and others) must be able to go to school in an environment that is conducive to learning. This means when there are mistakes that are made (and there will be) that we respond with compassion, sound rationale and interventions that are meant to teach. "We want to treat others as we would want to be treated."
* Our students depend on our school leaders and parents to focus on academic, social and learning opportunities.
* Motivation comes from within an individual. Just like morale, personal motivation is completely up to each individual.
* We need to be ready to assist one another in reaching for the best solution rather than the most convenient. We need to eliminate from our vocabulary the age old saying "We have always done it this way" or "We have never done it this way." We should not rest on our success, as this will create complacency.
* We have a duty to honor the traditions of the past while working to blaze a trail into the future.
* Finally, we need to constantly let folks know about the great things that are occurring in our school district. In doing so, we will increase hope, trust, credibility and confidence.
If you ever need assistance, please do not hesitate to contact me.
I am very proud to be a Herscher Tiger and I hope you will be too!
Dr. Richard S. Decman, Superintendent of Schools
Email: decmanr@hcusd2.org - Main District Phone: 815-421-5000
Superintendent's Blog
Herscher2supt.blogspot.com
Past Herscher CUSD #2 Superintendents
Kenneth Seebach (July 1, 1949-June 30, 1975)
Merle Holsen (July 1, 1975-June 30, 1994)
Richard Dechard (July 1, 1984-Feb 11, 1986)
Dennis Clodi * (Feb 11, 1986-June 30, 1986)
Lawrence Jacobsen (July 1, 1986-June 30, 2000)
William Davison (July 1, 2000-June 30, 2009)
Dr. Ruth Schneider (July 1, 2009-Oct 14, 2010)
Dr. Richard Bukowski * (Oct 14, 2010-June 30, 2010)
Dr. Richard S. Decman (July 1, 2011-Current)
* interim